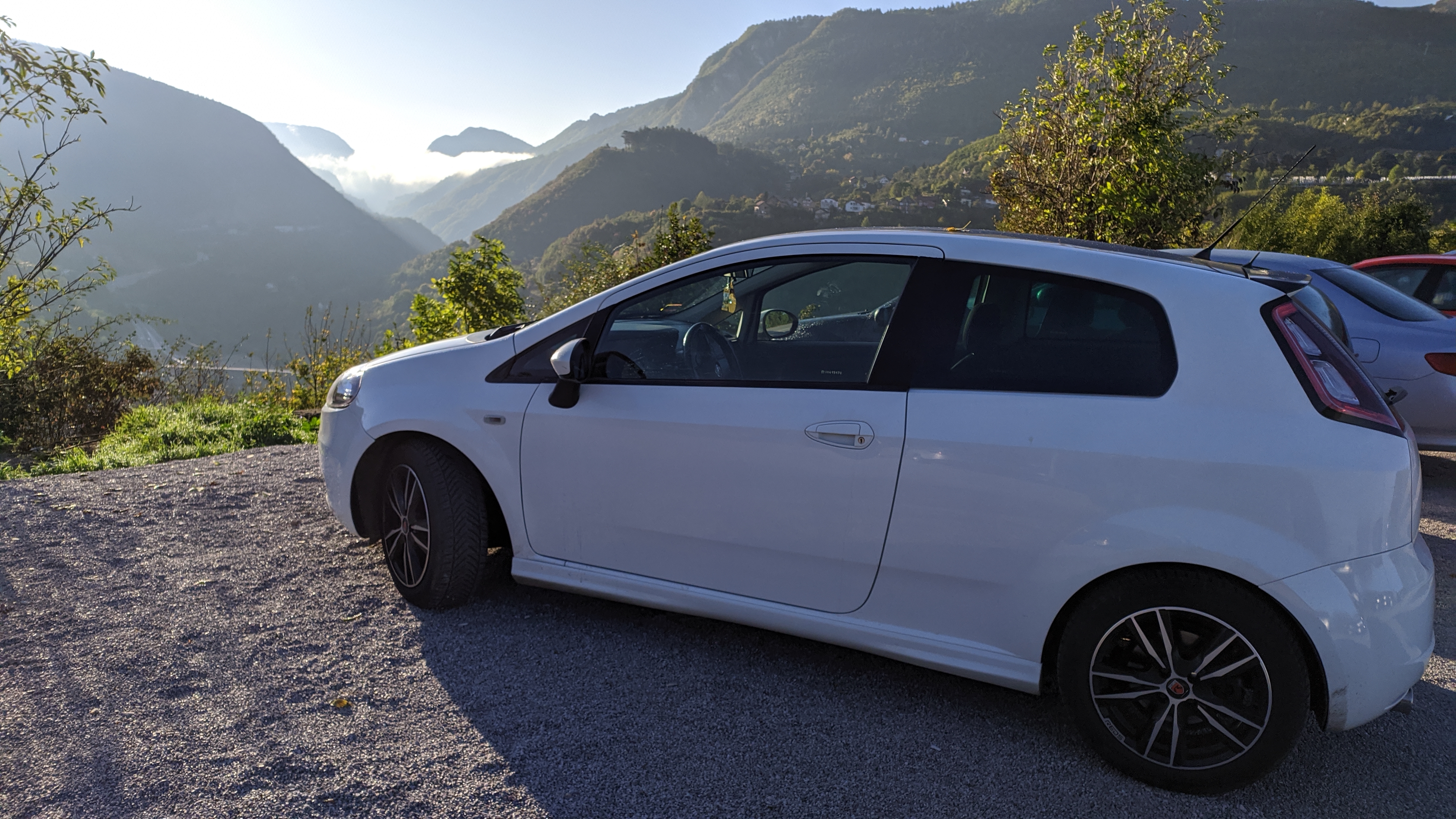 Content Count

49

Joined

Last visited
Recent Profile Visitors
The recent visitors block is disabled and is not being shown to other users.
TNG bi verovatno lakše mogao podesiti da pređem na jači isparivač i brže brizgaljke.

Razmišljao sam. Koliko sam čitao nije neophodno. Sačekaću leto da vidim IAT kada je 40 c naplju. Trenuno mislim da je mali dobitak za dosta truda. Na uličnim autima sa gt1446 ostavljaju stock cooler i nemaju problema ni sa 220 ks. Da je drag mašina ili za autokros verovatno bi bilo u opciji.

Neki hvale, neki pljuju.. Neki su se jednostavno pomirili sa kraćim vekom ventila.. Bilo bi lepo naći neka konkretna iskustva vezano za te additive.

Mislim da nije isključivo zbog TNG. Auto ima ok 180k u sebi možda i više, sicevi i ventili se svakako troše.. Koliko sam čitao smeša gasa pri WOT dosta utiče na ventile. Ovo sam iskopirao sa nekog Volvo foruma čini se da lik zna šta priča: There is more power to be gained from going rich running on petrol than there is going rich with LPG. Liquid petrol doesn't take up as much volume in the manifold or inlet runners as LPG vapour does and any volume taken by fuel is lost to air, thus an overly rich LPG mixture lowers effective volumetric efficiency. Petrol has the effect of cooling the intake charge during it's atomisation and this cooling effect can in some cases raise volumetric efficiency even though there is an 'extra' volume of liquid in the inlet runner.. Liquid fuel doesn't take as much volume for the same mass a a vapour fuel. So far I've talked about volumetric efficiency but there is also burn speed to consider - it is no good just getting the mixture that will provide the most heat (engines produce power from heat so a hotter burn is actually good news, though localised heat isn't good news) if some of that heat isn't utilised because it exits the exhaust valve having done no work in the engine because this will waste that heat and reduce power, it will heat the exhaust valve as hotter gas exits past it and will heat the inlet valve during valve rock. So as rpm increases we can expect the mixture to need to get very slightly richer to increase the burn speed (less time for the heat to do it's work before the exhaust valve opens) to prevent lowered power and heated valves. Hotter valves are softer, there is the metallurgy of the metal used for the valves to consider regarding wear but also valve spin - on engines where the valves are spinning faster as they reseat we can expect more wear than on engines where the valve isn't spinning as fast (like slipping a clutch with higher revs) even with the same valve temp and same metallurgy. Lambda probes measure exhaust oxygen content so closed loop fuel systems are by default self compensating for different fuel stochiometric ratios. Fuel mixture for WOT conditions can is some cases be a compromise between maximum power, protecting the valves from a slow burn rate and/or lean mixture, protecting the cat from an overly rich mixture. The best way to tune WOT fueling with a narrow band probe can be to ensure a slightly rich mixture for starters, then increase the mixture until the point that a seat of the pants test can detect power is starting to drop slightly, then go for a mixture in-between those points. With a wide band probe the system will be closed loop almost all the time or all the time, so there isn't much you can do with the LPG tuning to effect near WOT mixture anyway without remapping the petrol ECU, but most remapped petrol ECUs go overly rich and might actually reduce power on LPG. E sad moja situacija je možda za nijansicu drugačija od npr. Mijailović P. Ne znam dali je njegov auto remapiran, znam da moj trpi veće temperature u cilindrima zbog veće količine vazduha-goriva. Moje bregaste nisu iz t-jet 150 ili Abarth nego iz NA motora. Za 7 stepeni su mi duže otvoreni izduvni ventili. Ventili se hlade dok su zatvoreni-greju se dok vreli gasovi protiču. Značaj ovoga sam tek nakon detaljnog pregleda motora shvatio. Možda je moja briga preterana :-) ali kao što rekoh ne bih da radim npr. Glavu opet za 30k

Mijailović P.

reacted to a post in a topic:

Grande Punto 1.4 tb Sporting

Mogu i ja svoj namestiti da povlači isto pa čak možda i malo jače na gasu. Za max nemogu jer mi dizne i isparivač nisu dovoljne. Pošto sam nedavno sklopio motor, sada hoću da budem 200% siguran da u skorije vreme neću morati :-) Jedna stvar na koju mi je strugar skrenuo pažnju: sicevi ventila su bili priločno loši. Naravno svako svog vozi kako želi :-)

McSteel

reacted to a post in a topic:

Grande Punto 1.4 tb Sporting

Podigao sam vrednost na 40% opterećenja. Ako potopim gas skroz prebacuje odmah. Efektivno sada je nekako više povezano sa koliko brzo i koliko duboko potapam gas. Mogu do oko 40% naglo da otvorim gas ili do 60ak% ali ne naglo. U praksi samo prebacuje na koju sekundu kada baš pritisnem za neko obilaženje ili slično. S obzirom da auto sada ima oko 170 ks i 270 Nm potapanje gasa do kraja je retko potrebno. Samo ako baš hoću da se igram :-D Tada svakako ručno ide na benzin :-)

Tako nečega sam se bojao, ali nije :-) samo na nagljia dodavanja reaguje malo osetljivo.. Vozio na autoputu sa 160 nije prebacio.

Novosti vezano za TNG. Ako neko planira voziti t-jeta sa više snage na Gas ovo može biti korisno. Iskusne plinadžije verovatno poznaju problem, ali za samouke može biti novo. Nakon dešavanja sa TNG i pretpaljenjem odlučio sam namestiti uređaj da pod opterećenjem vraća na benzin. U Stag q boxu to mogu jedino tako što podešavam na koliko posto teoretskog opterećenja benzinskih brizgaljki da vrati na benzin. Podesio na 60 posto. Kao i očekivano na potapanje pedale auto je prebacio na benz. Gasni komp je ostao sa greškom "No gas pressure sensor" Naravno senzor je tamo :-) i čim se greška resetuje pokazuje vrednosti pritiska gasa... Iz podrške Ac Stag misle da mi loš isparivač... Naravno pošto nije njihov nego Zavoli :-) Nakon nekoliko dana raznih testova moj zaključak je sledeći: Pri naglom dodavanju gasa turbina razvije pritisak od 1.4 bar, isparivač nadoda 1.3-1.4 bar. Tako u TNG sistemu je 2.8 do 3 bar pritiska u momentu kada gasni komp. Zatvori slavinu i prebaci na benzin. Tada pritisak momentalno pređe 3.7 bar a verovatno je to gornja merna granica senzora. Na kraju spustio prelaz na 35% i sada se ne dešava više. Prebacivanje je sada pre punog turbo pritiska.

Sem

reacted to a post in a topic:

Alfa Romeo Giulietta 1.4 tb 120 ks Veloce

Mislim da je taj info tačan. Moguće je i da bude previše agresivna ta početna vrednost. Pošto se mapa u teškim uslovima ponašala dobro nekoliko meseci a kvar nastao bez bilo kakvih prethodnih znakova, ja još nisam izgubio poverenje u nju. Naravno u slučaju da se ponovi, biće jasno gde je greška. I naravno tu ima još jedna problematika koja je došla do izražaja, TNG preko 3500 4000 rpm traži manje pretpljenja. Moja teorija da će 50% 100 oktan ublažiti to je pukla u momentu kada je loš senzor izazvao još veće pretpaljenje.

dekirs

reacted to a post in a topic:

Grande Punto 1.4 tb Sporting

Mislim da je ok mapa na drugim temperaturama nisam imao problema.. senzor odstupa tek oko 0 i spod stepeni. kada sam polovan zamenski stavio sa njim u zamrzivac i izmerio otpor dobio razlicito a zamenski je bio skoro pa tacno kao u tabeli https://www.fiat-lancia.org.rs/Manuals/Fiat/Nuova_Bravo/Fiat_NuovaBravo_1.4TjetEngine.pdf A ECU reguliše TAdv na osnovu ostalih parametara i temperature, pretpostavlja da benzin gori sporije u hladnom vazduhu.

Meni se čini da je taj AFR log u voltima direktno sa senzora.. gornja i donja vrednost pre WOT ti je kao i kod mene, pungas rekao bih blizu mom, moj je 0,92 V na pun gas.

Mislim da sam otkrio glavni razlog havarije.. Sem naravno remapa i punog gasa :-D Senzor temperature koji je u map senzoru u usisu je sporo reagovao. Nakon demontaže i merenja vrednosti deluje kao da je pokazivao hladnije temperature. Rezultat preveliko pretpaljenje = prevelike temperature. Nažalost izgleda da 100 oktan i TNG u mešavini nije izazvao knock da bi računar detektovao i smanjio Tadv.

Moj je tačno zakucan na 0.92 V od 2500 do 6000 rpm pri punom gasu. Kao što rekoh snimljeno nemam nažalost. Pošto moj sa remapom i Vl36 ima istu mv pri punom gasu verovatno i tvoj valja a i ja sam mirniji

Svećice su bile 4000 km stare Denso IXU 27 podešene na 0.6 mm zazora.

Koliki zazor na svećicama misliš? Nemam Afr log pri ruci. Nemam pristup wideband senzoru samo pratim fabrički senzor nažalost Pogledaću temu može link?